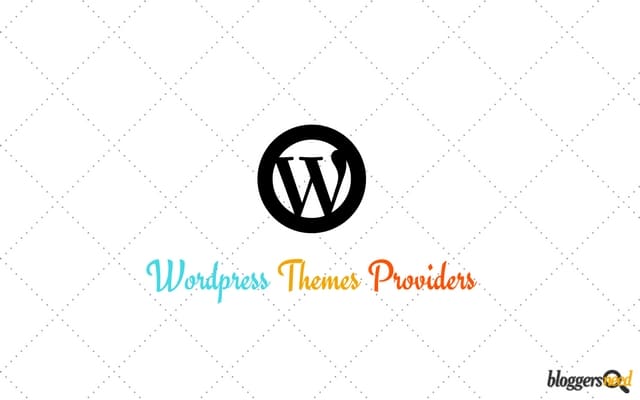 Click here to check the Best WordPress Themes Providers Section
One of the best thing about a website Is the presence.
Off course, the look of the blog attracts the visitors which brings them to visit the website regularly.
The theme is the skin of the website, and It should be chosen like how we select the dress for ourselves, and in the post, I am going to provide the best WordPress themes providers.
This list contains the best theme providers which almost 90% of WordPress websites are using it literally with many features.
And all the WordPress themes providers listed out in my post are the best WordPress themes companies.
Best WordPress Themes Providers
1. ElegantThemes – User's Choice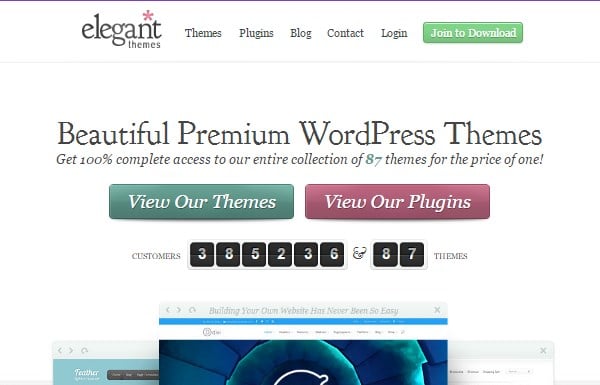 EleganThemes the best option for buying WordPress themes at the affordable price and Nick Roach is the owner of Elegant themes who stands behind the success of this shop.
Nowadays several theme providers are charging hundred of dollars for purchasing a theme, and many couldn't afford it because of spending huge bucks.
But elegant themes sells premium themes at very low price, and that's why?
More than 500,591 customers already joined Elegant Themes by purchasing all the themes for the price of one.
Yes for $89 you can use all the 88 themes and 5 premium plugins for one year or pay $249 for one time for lifetime access if you are sick of renewing every year.
It also got some popular plugins like Divi theme, Drag and drop site builder, Bloom opt-in forms email marketing, Monarch best social sharing wordpress plugin.
Elegant Themes offers a 30-day money back guarantee so joins now it's risk-free.
Learn more: Elegant Themes review
#2. MythemeShop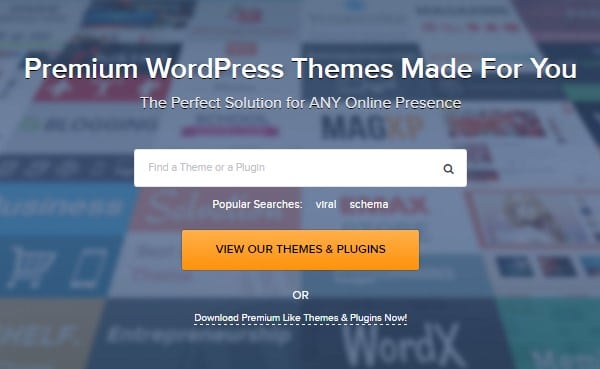 Mythemeshop is the no #1 top premium WordPress theme providers when visiting the web page the first thing you will notice is "Premium Wordpress Themes Made For you."
Yes everyone has to accept this fact because it has some of the coolest premium WordPress themes which are available in affordable price.
And the Best part is once you buy the plugin you can use it for countless websites with lifetime access.
MythemeShop not only sells premium themes but also it has popular wordpress plugins,
MythemeShop is responsive and SEO optimized, and Ad blocker enabled for earning through Google Adsense.
Learn more: MyThemeShop review
Get 31% Off Now! Click this link
#3. StudioPress – Lifetime Access (Pay Onetime Fee)
StudioPress by Copyblogger Media is a popular WordPress themes company, and Genesis framework produces every theme which means search engine optimized with Genesis framework it is easy to build WordPress websites.
The developers of StudioPress themes are well experienced and expertise in this field so every theme are created with full features to give the best performance.
Studiopress comes up with variations.
1. Genesis framework
2. Child Themes
Studiopress themes are responsive, flexible, Customizable and the most popular and more selling and best theme in StudioPress is Genesis Framework.
If you want a full search engine optimized theme for your blog, then I would force you to buy studiopress themes because of their high functionality.
4. Flexi Themes
If you're looking for the best value, FlexiThemes is it! They have the most WordPress themes in the world…over 2,200 of them! And they have a one-year membership plan that gets you full access to every theme.
Their themes cover a wide range of categories, from generic business themes to niche site (example: dentist). With so many themes at your finger tips, you can't go wrong.
FlexiThemes has been in business since 2009 and they are a reliable theme shop. Their support team is super nice and enjoys helping their customers.
You can try any of their themes for free before purchasing. It's completely risk-free and no billing information is required. So what are you waiting for? Give FlexiThemes a try today.

5. Themeisle – Pay Only Once Use For Lifetime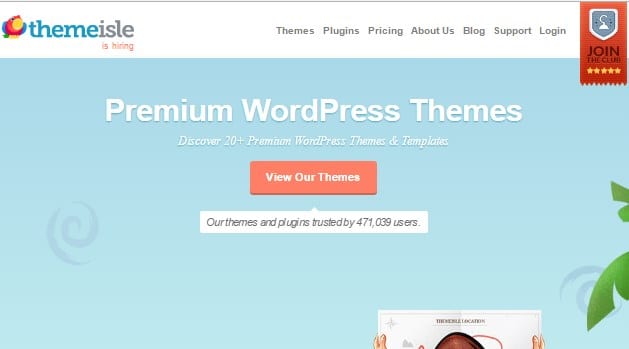 Themeisle the best premium wordpress themes for old and existing blogs and themes already used by more than 471,000+ user around the world and has 20+ premium wordpress themes and plugins.
From personal theme to e-commerce theme it has all types of templates for every website, and also favorite blogs recommend themeisle because of their perfect design and look.
I left something I am supposed to say themeisle got more than 20+ free themes to use which seem one step better than premium themes you look in the market.
By spending $149 you get 100% access to whole themes available in themeisle.
Learn more: ThemeIsle review
#6. Themeforest
Themeforest by Evantomarket the top premium wordpress theme providers for worpress based websites and it has more than 30,000+ themes and website templates.
Themeforest successfully running in business because the favorite themes are available since years and it provides regular updates and long term support to the users and also providing free themes and templates on a daily basis.
Whatever your website based on? This company has every type of themes you need.
#7. RocketTheme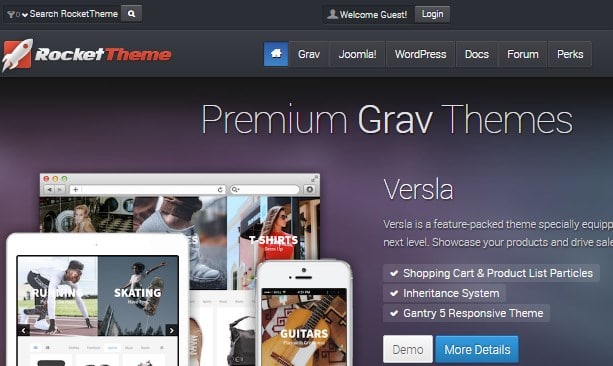 RocketTheme is one of the leading template company which provides templates both for wordpress and Joomla and recently they released some best themes which are super fast and good looking.
Rocket Themes uses Gantry framework which enhances the dashboard user experience, causes your site to load more quickly and also the themes are responsive.
The company got several themes which will make your site to look professional, and you can adjust the theme as far you like, and they are super easy to do.
And furthermore, they have got good customer support and daily updates to keep the users up-to-date.
#8. Orange themes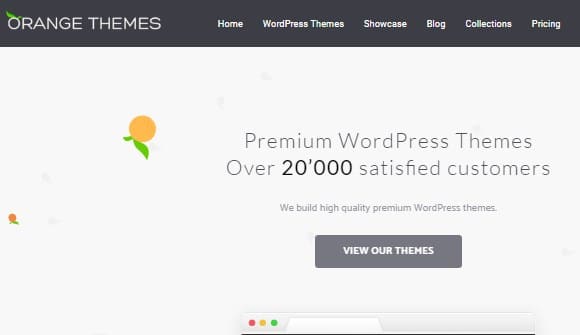 Orange-themes a best wordpress themes providers where they giving best skins for magazine based wordpress blogs with elegant design and orange theme provides high-quality premium themes for any websites and with over 21,000+ customers joined it satisfies every customer by its unique and beautiful designs.
Orange-themes got top notch support and fastest response for the queries to customers by the expert team, and every theme is coded with Clean CSS/HTML standards so that it meets the wordpress present and future updates.
Paying $59 as one-time payment you get the access to all 14 themes for the lifetime and use on unlimited domains.
Orange theme offers a 14-day money back guarantee so what's next?
Give a try.
#9. Template Express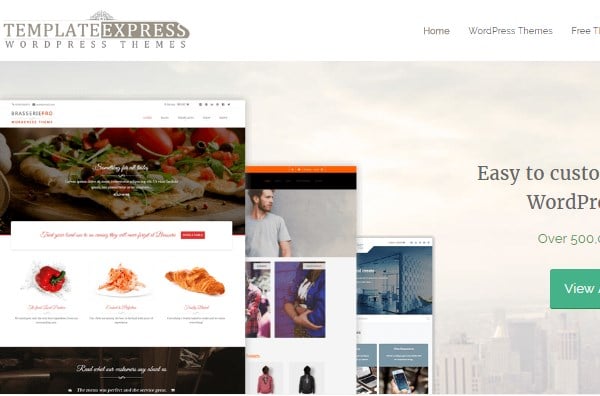 Template Express got premium and free responsive themes, and all themes are easily customizable, and with over 500,000+ download it stands on the list for best premium wordpress themes providers.
All themes are simple to setup, and they are easily customizable with the creative design they will make your website to look beautiful and fantastic.
With great support and quick responses, it is safe to buy themes from them and also every e-commerce themes here are perfectly integrated with official wordpress E-commerce Plugins, so it is safe to sell your products with this themes.
By paying $59, you can get all the 14 premium wordpress themes and get future themes when they release.
30 Day Money Back Guarantee On All Themes And Bundles.
#10. Diythemes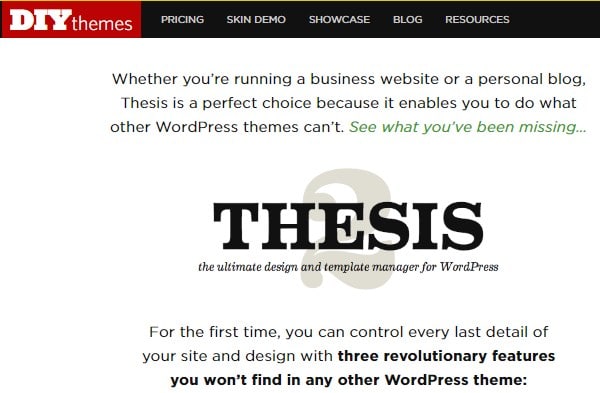 Diythemes is absolutely for one who needs to build a beautiful website with the comfort of customizing the whole website from wordpress dashboard.
Thesis from diythemes the best option for any blog because you can do whatever you want and the good thing is it as 3 option like boxes, skins and site tools to increase your site performance by search engine optimizing.
Everything is good in diythemes from pricing and theme performance to customer support, but one only drawback from the thesis is, the theme can be only installed on wordpress.org which means you can't install it on wordpress.com.
#11. ThemeLab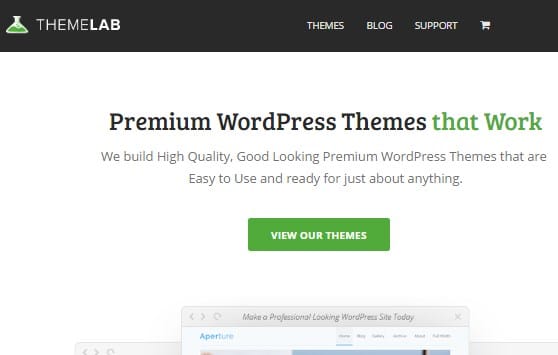 Themelab has plenty of professional themes which fulfills your demand and about this wordpress theme provider is they got high quality good looking premium themes that are easy to create a WordPress blog within some minutes.
Every theme is fully responsive i.e. mobile friendly which makes your website good looking in both mobiles and desktops.
And themes are correctly coded and gave entire structure to assure them as SEO friendly to be exposure for search engines.
Where to buy WordPress themes?
You can find free WordPress themes online, but i always recommend you to buy your theme from a reputable site. On the internet there are a lot of themes available for free, but you will not be able to use them for any commercial purposes. If you want to use a free theme for your website, you can download it from Theme Forest or Template Monster. These websites offer themes for free, but they also offer paid versions with a lot of features.
Why choose WordPress?
WordPress is a powerful content management system (CMS). It allows you to build a website quickly and easily. You can use it to create blogs, websites, eCommerce stores, and more. WordPress is open source, which means that it's completely free. You can download WordPress from the official website.
How to find a good WordPress theme?
You can buy ready-made themes and install them on your website. Or you can create your own from scratch if you are a developer. Either way, you will need to find a WordPress theme.
Finding a theme can be difficult, but you don't have to be a professional web designer to find one. There are lots of free themes available, so you can find something that's right for you.
The first thing to do is to determine what you want your website to look like. The site will need to include a blog, a home page, and maybe a contact form. If you're looking for a general theme, you can find lots of free ones online. However, if you want something more specific, you will need to pay for a premium theme.
Some of the most popular free themes companies are Template Monster, and Elegant Themes. Each of these sites has numerous free themes. They also offer premium themes, but these are usually much more expensive.
If you're looking for a general purpose theme, Theme Forest is probably the best place to start. It has lots of free themes, and you can sort them by popularity. The site is made up of thousands of independent developers, so you can get a broad range of themes.
Best WordPress Themes Providers: Wrapping It UP
I am confident that I have listed the best WordPress themes providers from where you could get themes for every kind of websites.
For an affordable price, you can get all kind of support from the theme promoters and additionally every theme are responsive; loads faster and fully search engine optimized.
And everyone is giving refund policy to test their themes.
So what's next? From which the best WordPress theme companies are you going to buy the theme now?